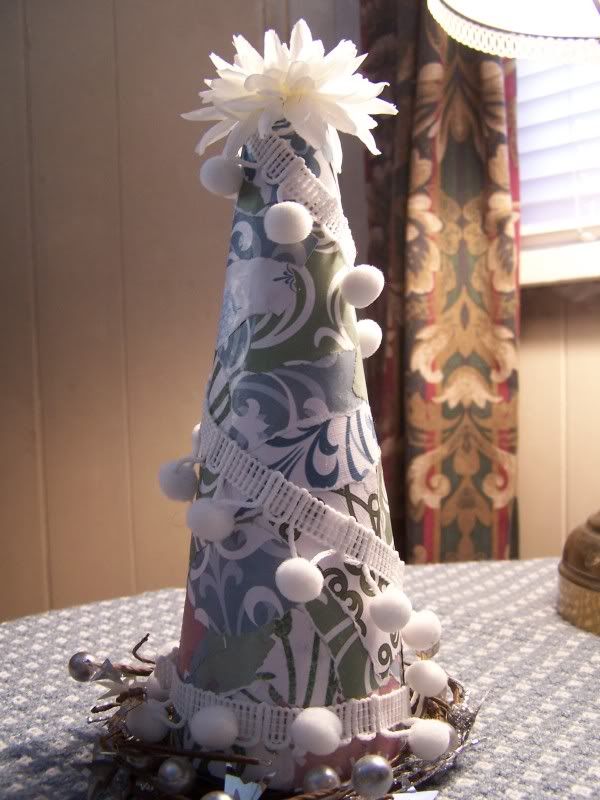 Happy Day 2 of our 12 Days of Holiday Gift Giving Fun!
Brought to you by Chris

Pozzi
Today you will be making a mini Christmas tree. These would also make great teacher gifts and are great for kids projects. (a little messy so be sure to cover your table :D)
For this project you will need
Styrofoam cone
Scraps of papers (any color, style, mix of manufacturers… I use scraps from Dec. Kit)
Glue (I used scrappy glue and tacky glue)
Lace/pom poms/Ribbon or anything for garland
Topper (I used a large daisy and a button)
Start tearing your scraps into pieces (yep tear them!) The goal is no straight edges.Starting at bottom of cone adhere pieces with glue working your way around the cone. (I glued under paper and sealed edges with glue too.)
Continue place pieces all the way to the top. Once tree is finished, add garland (I used the pompom strands but could use ribbons, a strand of beads,
Faux
pearls, anything your heart desires). NOTE: I used pins to attach garland rather than trying to glue it.
Add tree topper.(I used a matching double daisy but in past I have used poinsettias etc too.)
I added a $1 store candle ring around mine for a little more
pizazz
.