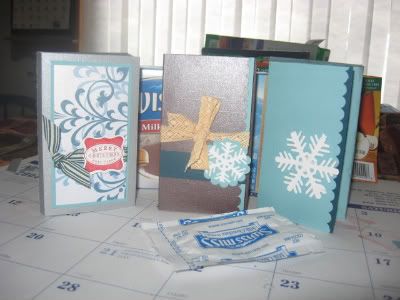 Today's project is brought to you by Robin Gibbons.
Giving a handmade card to neighbors and friends is a wonderful way to show you care. This project is more than just a card. It's a box that stores a pack of hot chocolate! Give the gift of a warm cuppa to a friend!
Supplies needed 8.5 x 11 sheet of
card stock
( i am using
Card Stock
out of the December kit) bone folder and ruler for scoring or a trimmer with a scoring blade heavy duty glue or tape runner
embellishments
or stamps
1. Turn
Card Stock
so 11 inch side is horizontal
2. Score
Card stock
at 1/4 then at 3.5, then at 4 inches, then at 7 1.4 inches then again at 7 3/4 inches. This will give your box a depth of 1/2 and inch and the width of 3 1/4.
3.Then turn your
Card stock
the other direction. Score each side at 1
inch
then at 1.5 inches.
4. Using your trimmer or scissors cut your cs at the 1 1/2 score line you just made up toward the top of the sheet that has the 1/4 inch score line. STOP at the 4 inch score line that you did in the 2
nd
step. That score line is the side of your box.
5. After you end up with your T shape Cut the little corners of the box that were made by your score lines
6.Now you are ready to decorate! Fold all your score lines leaving the "pretty" side of your
card stock
on the mountain side of your folds. The
Card stock
I am using is the cranberry color with the shimmer from the December kit. I wanted the shiny side on the outside of my box.
7.Decorate the front and inside before you glue! I have added more
embellishments
and ribbon to my front. To glue the box glue the 1/4 inch strip and the bottom flaps of your "inside" part of the card. Be sure to let it sit and dry before you put the coco pack into the box.